Born and raised in Albany, NY Chuck is the grandson of Angelo Sano, founder of Sano-Rubin Construction Company. From a very early age, Chuck would accompany Angelo to various construction sites, always knowing he would follow in his grandfather's footsteps. At 16, Chuck took his first job in the contracting business with Ben Sano at A.B. Sano and Son, Inc. It was through Ben's tutelage that Chuck was taught the fine art of finish carpentry, attention to detail, and above all else, respect for his customers.
When you become a client of Chuck Sano Renovations, you will be offered a full range of services and provided state-of-the-art materials and design concepts. Chuck will give you his full attention from your initial meeting to the completion of every project. Every effort is made to attain all of your design requirements.
Chuck is meticulous with each and every project and takes pride in maintaining a clean, professional work environment that allows you to continue to live comfortably in your home or function efficiently in your work environment.
News & Articles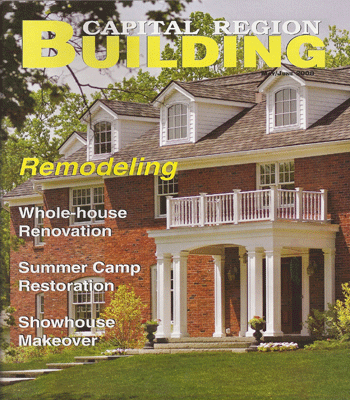 Chuck Sano Renovations has been featured in the May/June 2008 issue of Capital Region Building magazine. The publication featured an article detailing a whole-house renovation undertaken by Chuck in 2004. This project entailed the transformation of a 2500 sq. ft. center hall colonial in Albany to a 7000 sq. ft. home, including complete 2-story additions to each end of the original structure. Working closely with the homeowners, Chuck respected their wishes to maintain the original home's history, character and charm while, at the same time, updated and made the changes they envisioned to reflect their lifestyle. All photos provided in the magazine article are copyright of Randall Perry Photography.
Click Here for more pictures of the home in this article.
Click Here to read the article.
Make your dreams become reality!
Free, no obligation estimate for your next residential or commercial renovation project.